Vino In My Dino
September 28, 2020 16:17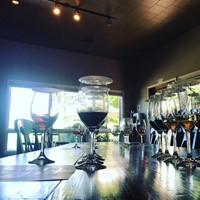 Fall is my favorite time of year and the Mother Clone Zin vines are done with harvest and beginning to show their fall colors of red, yellow and orange.  Six months into the pandemic and I thought I'd include an update on what we have been doing during COVID operations around the winery and vineyards. The seemingly mission impossible became possible because we found ways of running the family business in these times.

Harvest Ops: We are wrapping up Vintage 2020 as you read this note, the grapes are in and the fermentations will take a week or so to finish. The county and state guidelines slowed the vineyard crew down mostly at the beginning of the day-everything needed to be in order to keep everyone safe. The whole process took more time but the grapes were picked and the season came to an end on September 24 with the harvesting of our Cabernet Sauvignon. Everyone is clamoring to get answers about smoke damage. The truth is we have to wait for results from the very-overwhelmed labs. You can rest assured that we are doing everything we can to bring you the great wines you've come to expect from us.

Tasting Room Ops: Pandemic guidelines mean reservations for wine tasting are in order to keep our guests and staff safe. We reimagined how you would experience tasting in this new environment so we developed tasting flights and reserved seating along with a nominal tasting fee. Each flight captures a portion of our story and you have many to choose from including 'choose your own' flight. Plan ahead and let us know you are coming by sending an email to reservations@pedroncelli.com. One of our friendly associates will get back to you with the details. Take a look and plan your next trip-we'll reserve your spot and share our wines and stories.

Club Ops & Curbside Pick-up: Colin and crew kept up to date with you and shipped out our wines to all corners of the U.S. by offering themed specials of our favorites. We packed the wine club shipment in house again and in order to use less paper we included the vignettes and the recipes in the links below. Are you a will-call kind of club member? We have your September selection ready for pick up anytime during tasting room hours (10am to 4:30pm). We have continued with curb side-pick up throughout the pandemic and many people found pre-ordering wine for a touchless experience was very convenient—drive up, pick up and drive away. All you have to do is call the tasting room 707-857-3531 ext 1 or go online and place your order.

Virtually Yours: We Zoomed, we've FB'd, IG'd and IG'd Live all as a way of keeping in touch with you! I just appeared on a global Zoom with our retail partner in the UK—along with winery owners in Italy and South Africa. We talked and shared what is going on in our part of the globe and it was enlightening as we all share the same pandemic experience. We love to have conversations with our friends (that's you Jack & Jo, Denny & Patsy, Becky & Cal among others) and we'd love to 'see' you. Connect with us at virtaste@pedroncelli.com and let us know a good time to meet.
Categories
Recent posts
Popular tags