Vino In My Dino
December 20, 2019 16:38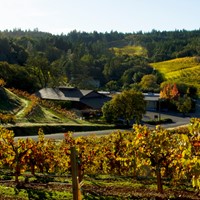 There was a full court press of articles immediately following the Kincade Fire that took place over a week in late October 2019. Sonoma County did not in fact burn down again. Even now we hear of people wondering what really happened to Wine Country. There are many organizations getting behind the #GatherInSonoma and #SipSonoma in order to get the word out that the area is generally unfazed. Won't you Come Home to Sonoma County with me?
I was born and raised in Sonoma County. College took me out of the county for a time but soon I was back, the siren call was strong especially since I lived in the East Bay right near the BART tracks. I began working in the tasting room on weekends and a few months later made the move back when my father Jim offered a full time job. That was 35 years ago this year. Coming home to the county after the time away gave me a new appreciation for all the area has to offer. Once I began networking with other winery people I began to explore the county in new ways. When I think about it there is so much to do! The Russian River makes the wide swath from the north end to the west into the Pacific Ocean-where there are many great beaches offering their own views. How about Lake Sonoma which, besides the water, offers great trails to hike. We have our own museums, ice arena, redwoods, county parks, wonderful restaurants and of course tasting rooms all along the way.
We carry a book in the tasting room called The Down Low: Things to do in Sonoma County (A local's guide to the Provence of the U.S.). The author, Barbara Barielle, is an entrepreneur: a travel writer, publicist, actress, producer and more. Her book includes all the best about Sonoma County because it is so much more than wine country. It is her home (and mine!) and her enthusiasm about each place beckons us all to explore this great county.
The Kincade Fire, while large, singed the corners of Alexander and Knights Valley and a tiny bit of the Russian River Valley to the east and didn't touch the other 15 appellations. Sometimes it is hard to remember it is much larger and that only 6% of the county is planted to grapes. Think about the other 94%! Other organizations like the Wine Road and the Winegrowers of Dry Creek Valley along with the Sonoma County Tourism group have pulled together two programs: #GatherInSonoma and #SipSonoma. You don't even have to be here to be a part of #SipSonoma-pick up a bottle of your favorite juice and take a photo & post. Come home to Sonoma County-I'd love to share all of it with you. And don't forget the hashtags!
Categories
Recent posts
Popular tags