Vino In My Dino
January 12, 2016 18:15
This month's posts are about weather and its place in the making of great wine. I sometimes talk about climates and micro-climates but what does this mean?
Grapevines like to grow and they will grow pretty much anywhere except maybe the Sahara Desert. Who knows, maybe someone will come up with a plan in the future-Desert Red or White anyone? Climate is like Goldilocks and the Three Bears: this appellation is too hot for Zinfandel, this appellation is too cold but Dry Creek Valley is just right. When talking about climate we toss around terms like marine influence and degree days, sun and temperature. It all comes down to taking the temperature of a particular region that will give you the degree days (a method developed at UC Davis) and this information will give the grower an idea about how the climate of a particular place will be good for Zinfandel (warm) or Pinot Noir (cool).
Let's start with California where there are 136 official American Viticulture Areas also known as appellations. Wow this is quite a choice for planting wine grapes. To break it down to bite size: there are 18 appellations from Sonoma County and Dry Creek Valley, one of the 18, was subdivided more than a decade ago with the birth of the sub-appellation Rockpile. Each of these areas are important because there is something distinctive and unique in their climate as well as geography. Dry Creek Valley is classified as a Region II, which makes it a perfect spot for Cabernet Sauvignon, Zinfandel and Sauvignon Blanc but it is also great for Rhone and Italian varietals, Chardonnay and even Pinot Noir in the right micro-climate pocket. More on micro-climates in Friday's post. A toast with a splash of vino in my Dino to our fine climate!
Sonoma County and the approved AVAs. Provided by Sonoma County Vintners.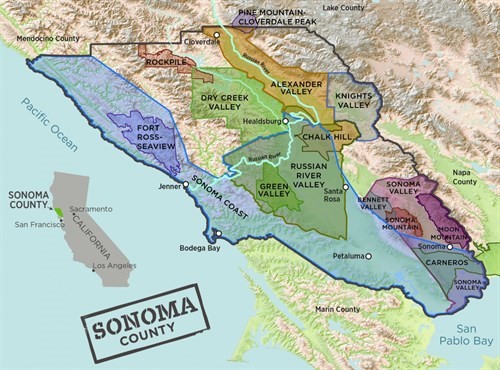 Categories
Recent posts
Popular tags