Vino In My Dino
November 18, 2015 12:33
We have been growing Zinfandel on our property since the turn of the 20th century when a 25 acre vineyard was established before my grandparents bought the property mid-Prohibition. Some of these vines are still around and continue to produce grapes. Since it is National Zinfandel Day I'll share what I have of the first years of Zinfandel (aka Zinfandal, Zeinfindall, Black St. Peters and a host of other names).
1832—First record of Zinfandel being grown in the US by William Prince on Long Island, New York.  He identifies it as a Hungarian variety.
1834—First reported exhibit of Zinfandel by Samuel J. Perkins of Boston.
1839—Zinfandal vine wins its first award as part of the Otis Johnson collection on the East Coast.
1848—John Fisk Allen of Salem, Massachusetts, publishes description of locally grown Zinfandal that closely matches what is now called Zinfandel.
1852—The year Agoston Haraszthy imported Zin into California, according to his son, Arpad, writing in the 1880's.  Haraszthy is sometimes known as the "father of Sonoma County winegrowing".
1857—Captain Frederick W. Macondray and J.W. Osborne exhibit Zinfandal at Mechanic's Fair in San Francisco.
1858—Commissioner of Patents lists Zinfandal as part of its collection.
1858—A.P. Smith of Sacramento exhibits Zeinfindall at State Fair.
1859—Antoine Delmas wins first prize for his wine, believed to be Zinfandel, at the State Fair.
1860—William Boggs plants Zinfandel in the propagation garden of the Sonoma Horticultural Society.  Leads to extensive Zin plantings in the county.
1860—General Vallejo's winemaker, Dr. Victor Flaure, advises Sonoma growers to plant all the Zinfandel they can.
1864-1869—Dry Creek Valley experiences the first growers who many feel planted Zinfandel and Mission grapes to support or start their own wineries.
1868—First North Coast award (a silver medal) for a Zinfandel given to Sonoma pioneer wineman Jacob R. Snyder at the Mechanics Institute Fair.
1872—The first winery in Dry Creek Valley  was built by George Bloch.  A vineyard boom soon followed with about 15 growers by 1877.
1878—Zinfandel is the most widely planted varietal during California's first wine boom.
1883—Dry Creek grape growers increased to 54 by this time and Zinfandel was the top planted varietal with a total of 395 acres.
 The rest, as they say, is zinstory. Even though Prohibition came along and many vineyards were pulled up for other crops, we continued to sell grapes until the U.S. saw the light and Repeal came along. After all, over 2500 acres of Zinfandel in the smallest major appellation in Sonoma County can't be wrong. A toast with Zinfandel in my Dino to this singular grape!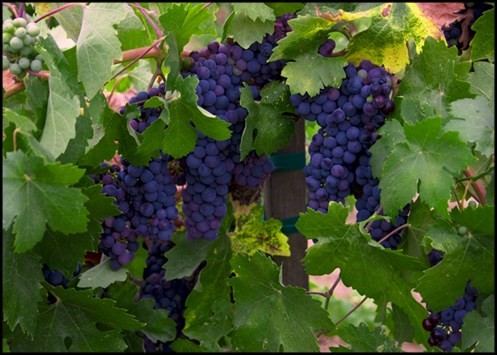 Categories
Recent posts
Popular tags