Vino In My Dino
June 8, 2016 15:17
Cabernet Sauvignon is king of the red wine grape acreage in California with 89,697 total acres, bested only by 6000 more acres of Chardonnay. It is the popular choice that put it here in the first place. Wine drinkers in the 1950s and 1960s recognized Cabernet Sauvignon and enjoyed its charms of fruit and tannin and growers followed suit. In Sonoma County (12,090 acres) it is the second most widely planted, with Pinot Noir reining in this particular category. Dry Creek Valley, where Cabernet is 3200 acres strong, has its' own unique charms. What is distinctive about Cabernet Sauvignon from our valley?
First a bit of history. John Pedroncelli was the first grower in the valley to plant Cabernet Sauvignon in the mid-1960s. If there is a site specific grape I believe this is it. Beginning with that 5-acre planting we learned over the next 5 decades what it takes to get the best out of this varietal. We now farm 29 acres along the bench of Dry Creek Valley.
Cabernet needs sun to ripen and a long growing season. Dry Creek Valley's climate is here to help with its' ideal climate paired with the upper end of the degree day spectrum, a Region II. The all-important marine layer, cooling down the grapes at night, also helps to keep balance and complexity. The vigor this varietal brings to the vineyard can impede ripening so canopy management and crop management become key to grapes and wine with good flavors and balance. Those flavors of plum and berry fruit combined with tobacco or sage notes wrapped in a blanket of tannin are the core of Dry Creek Valley Cabernet.
Compare and contrast: there is literally a world of Cabernet Sauvignon out there. Pick out two or three bottles including our Three Vineyards Cabernet Sauvignon. Perhaps compare appellations with a Napa Valley, Washington State or Bordeaux selection. Either way you'll educate your palate, which is what it's all about.
Our estate Cabernet Sauvignon ready for harvest.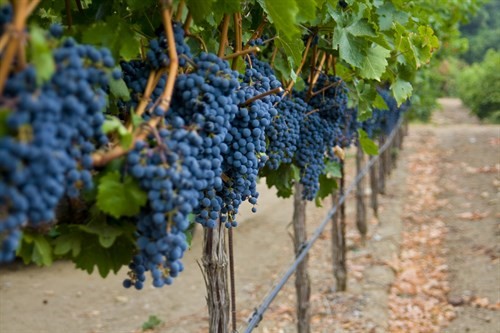 Categories
Recent posts
Popular tags