Vino In My Dino
July 8, 2016 13:07
Blackberries are THE fruit of summertime for me! When I was growing up here at the winery we used to make blackberry jam by the pint, usually helping my grandmother by seeding the berries before they became jam in a huge colander. Our home was infused by the sweet smell of berry jam bubbling on the stove. In later years the blackberry component in Zinfandel was always easily recognizable to me, easy to pick out in the aromas and flavors of this grape and I attribute this to my experience picking the ripe berries and making them into jam in our kitchen.
One Christmas my aunt and uncle gave our son Joe the book Blackberry Ramble. I will be bringing this book to read to our grandsons while we vacation in Truckee this month. Coincidentally blackberries were a theme at Joe and Ashley's July wedding a few years ago as it was part of the message delivered by Ed when he presided over their marriage.
Earlier this week Ed and I took our own ramble to the blackberry patch along Canyon Road. It is the simple things in life like berries with which we celebrate birthdays (Ed) anniversaries (Joe and Ashley) and a first triathlon (Adrienne). I look forward to our time away so with some Zinfandel in my Dino, I'll toast summertime and vacation-may we all relax and count our blessings!
Freshly picked blackberries-the smell was heavenly and brought me back to my childhood. Destined for Blackberry Crisp and blackberry ice cream!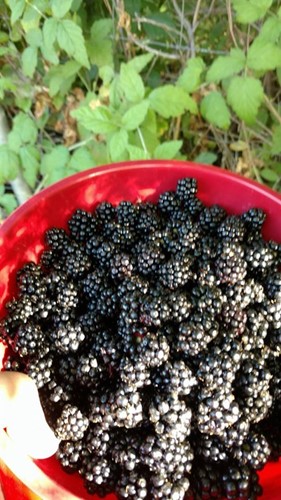 Categories
Recent posts
Popular tags