Vino In My Dino
April 7, 2015 14:09
I remember when mustard would grow between the vines with its beautiful spring yellow flowers and didn't know until years later what an important part it played in the vineyard's health. Cover crops have been integral to vineyards for almost as long as grapes have been grown. When we talk about the good work they do it includes promoting healthy soil, erosion control, eradicating weeds, help control pests, and, either in a drought situation or regular rainy season, they help regulate the moisture in the ground.
Nitrogen is a by-product of cover crops and is one of the most important minerals when it comes to grapevines. Let's just say the presence of this mineral, in the right amount, will produce better grapes in the end. Cover crops not only produce it but in the event of too much rain they will also hold the nitrogen in the soil instead of washing away. While this mineral is available in less expensive synthetic form there is so much more to a having a cover crop because of the interaction between the organic matter and the soil. You might also consider the roots as both loosening the ground as well as securing the soil when too much rain falls. And don't forget your legumes! Bell beans, which have been a cover crop since Roman times, and crimson clover do their part because of the high nitrogen content. Non-legumes include mustard and grasses also play an important role as well. I think I have covered some ground here-time for a tasty glass of wine thanks to bell beans, mustard and clover!
Visit here for more information about Down to Earth Month.
Bell Beans flowering in spring.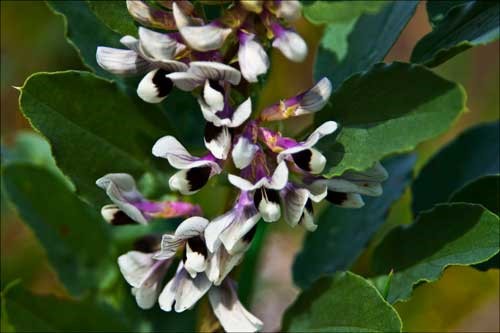 Mother Clone Vines and cover crop on the Home Ranch.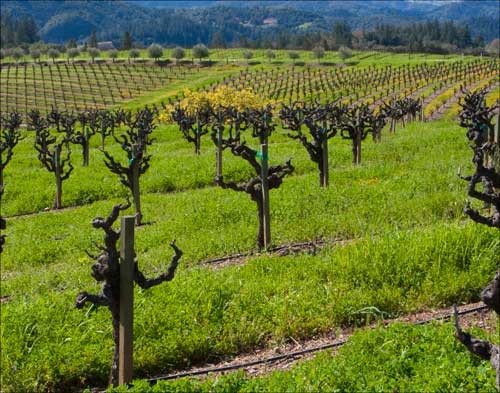 Categories
Recent posts
Popular tags