Vino In My Dino
September 21, 2016 16:59
Cabernet Sauvignon is known as the 'king' of red wine grapes. We were the first to plant it in Dry Creek Valley over 50 years ago. Our 29 acres of vineyard thrive along the bench here in the valley, a mile or so west of the winery. Home to prune trees up until the 1970s when we purchased the property, the location's rocky soil and cool nights help to develop the personality of our Three Vineyards Cabernet Sauvignon. Join me as we take a look at a first here at Pedroncelli: night harvesting Block DC02 destined for our Three Vineyard blend.
First let's consider the vineyard and the way it was established as an important part of the story. When this block was replanted a few years ago, Vineyard Manager Lance Blakeley chose the straight vertical trellis style which would work for both hand and machine harvesting. He saw the need for some changes in the way we do things after years of doing it one way. Shortage of labor and skyrocketing costs all played into the decision. And last night, for the first time in our 89 years of farming our vineyards, we did something completely different. We machine harvested Block DC02. While my uncle John was dubious about the quality of grapes being machine harvested quite a bit has changed in the last 30 or so years. The vines are treated more gently as the machine moves down the row and the general MOG-Material Other than Grapes-is not as prolific as it is when picking by hand.
Winemaker Montse Reece said, "In the cellar this morning we saw very clean-picked grapes. Machine harvest has the obvious advantage of time, we picked this lot in only 3 hours compared to nearly 6 by hand. Picking at night allows the grapes to come into the cellar cooler than hand-picking during the day, preserving the aromas and flavors." In fact I picked some Cabernet berries along the way and they were indeed cold-almost refrigerated after a warm couple of days. It proved a point. All these years I have been talking about how the fog influence is so important-keeping the grapes cool at night. And now we have night harvesting to thank for capturing the king of red grapes at its best. A toast to firsts with a splash of our Three Vineyards Cabernet in my Dino!
Vineyard manager Lance Blakeley oversees the first night harvest at Pedroncelli.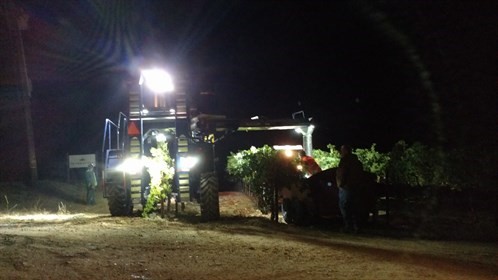 Categories
Recent posts
Popular tags