Vino In My Dino
March 9, 2016 17:14
Barrel tasting continues this weekend across Northern Sonoma County via the Wine Road's 38th annual event. I have written about how to taste from a barrel, how wine in a barrel changes, and today I'll focus on oak sources.
Our oak barrels, all 2000 of them, are a mixture of American, French and Hungarian oak. The reason for using three types of oak comes from their 'flavor profile' and we match it up with certain varietals. For instance American oak and Zinfandel have always paired well together and we only age our Pinot Noir in French oak. But why is this? You should also take into consideration that we do not use 100% new oak each vintage-more like 25% which also influences the wine's flavor profile.
There are subtle but tangible differences between the three types of oak. We use medium plus toast across the board. This means the barrel is toasted to a medium char and the heads (or ends) of the barrel are toasted too. This brings out what we call the toasty, wood fire-like aroma in all of them. The American oak can be a bit more reserved when it comes to its' profile with less fruit aspects and more toasted oak influence. Since Zinfandel is already fruit forward it makes sense to pair the American oak with this one. Pinot Noir, while showing fruit, benefits from the almost perfume-y aromatics of French Oak. We don't use a large amount of Hungarian oak but it is similar in profile to French oak.
It all comes down to the bouquet-both of the varietal as well as the oak. If you have ever walked by a coffee roaster think about those aromatics because they are close to what you can smell of the oak influence in a finished wine. Or the next time you are camping, take in those aromas as well and develop your olfactory memory for toasted oak. I'll 'toast' to oak and its wonderful layered influence in our wines.
I couldn't resist using this photo of my uncle from a few years ago-he is surrounded by a friendly group of barrel tasters.
A typical March day outside the Barrel Room. Making way for a new vintage to be aged within.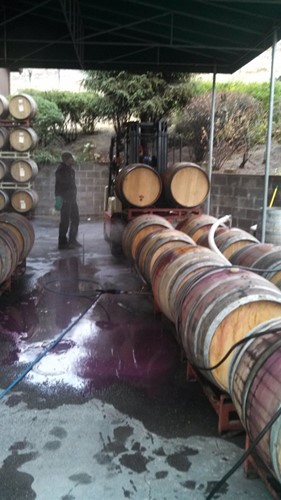 Categories
Recent posts
Popular tags