Vino In My Dino
January 27, 2017 12:46
Moving into the 21st century for a winery celebrating 90 years can sometimes be a challenge or easy. This was one of those easy moments. Cooking was involved and this made it easy for me. We worked with Robert Larsen, The Larsen Projekt, to set up a virtual tasting with several members of the blogging community reaching from coast to coast.
I chose a recipe and the wines we'd be tasting along with it. Thinking of my grandmother Julia I chose one that closely resembled her own cooking-she didn't write anything down so it is up to the ensuing generations to take a stab at her delicious meals. Parmesan Polenta with Sausage Ragu was my choice and I paired it with three of our wines: Signature Selection Chardonnay, Mother Clone Zinfandel and Family Vineyards Petite Sirah.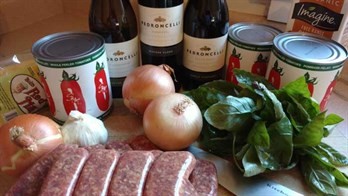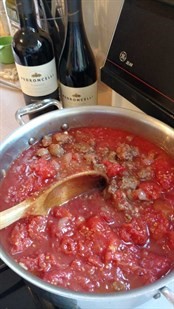 The chosen day and time was January 26 at 4pm in order to touch base with our east coasters and friends in the mid-west in order for us all to have a chance to make the meal. I uploaded several tweets ahead of time in order to give them some information on the winery, family and wines. We queued up the computers and hosted two bloggers at the winery as well-@luscious_lushes and @wizardofwhiskey.
Questions and fingers flew as we tasted each of the wines and also dug into the tasty polenta. We were also trending on Twitter which I heard was a good thing-nice to be trendy! The link will bring you to the conversation as well as the many photos shared of each blogger's success with the recipe. I answered as many of the inquiries as possible-and enjoyed sipping and eating along the way.
Here are some of the exchanges which you can follow in the link above:
@Pedroncelli Why the decision to begin a winery mid-Prohibition? #ped90th (@Fiery01Red)
@Pedroncelli gets it right: Their wines are made w/ food, friends and family in mind! #Zinfandel #wine #food #lifeisgood#winelover #PED90th (@myvinespot)
Reconnecting with Dry Creek Valley with @Pedroncelli for #ped90th (@DrinkWhatULike)
All in all it was a fun and informative evening. A toast to all with a splash of Mother Clone Zinfandel in my Dino (it was my favorite pick and pairing of the evening).
Categories
Recent posts
Popular tags