Vino In My Dino
January 24, 2019 10:21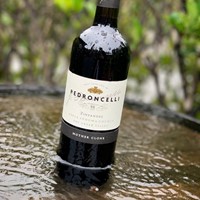 January brings ZAP's (Zinfandel Advocate & Producers) Zinfandel Experience known as ZinEx to San Francisco. We participate in a few of the events and here is a wrap up of those as well as other articles and observations. Especially since I have declared 2019 The Year of Zin it is fitting for today's post.
The first of the events held by ZAP was specifically for Sommeliers-no winery folks allowed. Doug Frost, Master of Wine & Master Sommelier along with Lauren Mowery, a Master of Wine Candidate and prolific wine writer had previously chosen 6 Zinfandels to present to the Somms and our 2016 Bushnell Vineyard Zinfandel represented Dry Creek Valley (our buttons were bursting!). It tickled me Zin when I heard it had been chosen as the favorite!
A Media Lunch followed and was held at One Market where chef Mark Dommen prepared small dishes to match eight Zinfandels in a speed tasting/pairing format with 8 different media invited to visit with each winery representative every 15 minutes. Nothing like diving into an ocean of Zin with delicious plates of well-thought out food. I brought along our newest Zin, Courage, to share. As we took our turns at each table for two the discussion buzzed around Zinfandel and its' charms. Ranging from why Zinfandel at all, where is its' place in the world, how to better position Zinfandel in front of customers to the origins of Zinfandel for Pedroncelli. All of the brief and intense conversations made me wishing I had more time. When I came to Doug Frost's table we chatted about the Somm Zin Session and about how Pedroncelli's style has outlasted many of the fads and came out a winner. Doug also knows my dad Jim from his time when he sold wine for our wholesaler in Missouri many years ago. He fondly remembered our wines, our house style and most of all my dad's outstanding character as one of the best and focused wine salesmen around-it was nice to hear so many kudos for his hard work. Jim Gordon of Wine Enthusiast wrote an article soon after (found here) as did Jeff Kralik (aka The Drunken Cyclist) found here as well.
Once finished at lunch I joined Ed at the Media & Trade tasting where we met folks from around the globe-from the Czech Republic to Santa Rosa CA and every spot in between. Zin really is it for us this year and my goal is to entice you each month as I bring a new Zinfandel experience to you.
Categories
Recent posts
Popular tags