Vino In My Dino
May 30, 2018 15:56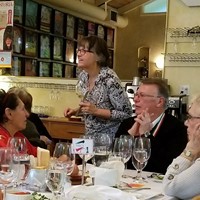 "Write what you know" is often said when talking about themes and subjects for blogs. I have put together a few observations about market visits as I have been working from New York to Boston, Seattle to DC/Maryland/VA in the last couple of months and have a two week stretch right in front of me for June. When I say I work the market it can mean either hopping in a car with someone I have never met (a sales representative for our wholesaler for instance-not an Uber driver) or traveling there to host a table at a large trade event, speak at a wine dinner, or have lunch with several accounts. Join me won't you as I outline a typical day.
I receive my itinerary either weeks or a few days in advance of my trip. Typically my day begins around 9am when I am picked up by an appointed sales rep who has Pedroncelli wine samples in their bag. They have set up appointments for us where the accounts (either retail or restaurant) are open to considering new wines and our quality and price point fit their customer's palate. I often praise my liberal arts education because it gives me a springboard for many avenues of discussion with the person I have just met. Sometimes the first appointment is 30 minutes or an hour away. And then there is what we call 'windshield time' between other appointments. Music preferences, favorite books or authors, food passions, how they came to be in the wine business among other subjects are tossed back and forth between us.
We arrive at the place and I usually present between 4-6 wines which gives the wine buyer a good idea of the style of our wines. Appointments can take 15-30 minutes depending on questions and possibly other distractions like phone calls and customers asking their own questions of the buyer. The follow up is key and asking at the end of the time which wines they liked or would buy is very important
I usually have between 5 and 8 appointments set up giving us time to get to and from the hotel as well as between the scheduled times. My day will end around 6pm. If nearby I will go revisit a restaurant we called on earlier that day or find a new place to dine. I also play catch up with emails although it is so much easier now that I receive them on my phone throughout the day. I remember sitting up until very late in the Ramada Inn in Newark trying to log in and answer emails at midnight because there were too many-thankful for technology which allows me to speed things up and operate smoothly.
And of course there is the 'time' on the road. Away from home, away from my husband and our middle-aged comforts of relaxing in the evenings, Dirk our dog is missed too. A year or so ago I realized all this travel was keeping me away from seeing my grandsons Jordan and Weston often. They are too young for email (thankfully) but not too young for post cards! I send each of them at least one from the week-saying I miss them and hope to one day take them to (fill in the city). Which I seriously do want to travel with them in the coming years. Now you've had a glimpse into life on the road. And we didn't even talk about hotels and the fact that I take slippers with me and won't let my feet touch the carpet barefoot!
Categories
Recent posts
Popular tags