Vino In My Dino
October 31, 2017 09:09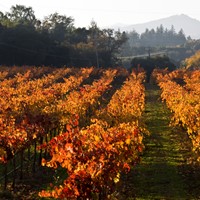 October 2017 will forever be defined as before the fires and after the fires for those of us in Wine Country. Like the recent hurricanes in the south, the 1989 earthquake and other disasters we will always remember where we were when they took place. I know how things could have turned out if the wind had whipped up again or the fire jumped the line and headed our way. It would have been a story for the ages losing everything like many of our fellow winery owners and homeowners alike. In the previous post I talked about how we weren't affected by the wildfires to the east and south of us. Our area is untouched by fire having been saved the heartache by countless (and by that I mean thousands upon thousands) first responders who fought the fires with all they had-and some even while their own homes burned. They all have our deepest thanks for their efforts.
There is something troubling to me in the last couple of weeks. I have found it is a bit confusing to read headlines proclaiming "Wine Country Devastated by Wildfires" as that covers all of the four counties involved: Sonoma, Napa, Mendocino and Lake. Our little corner of Dry Creek Valley is safe, picturesque, and the vineyards are showing their fall colors now. I'll give you an example and perhaps this will help the larger picture: there are over 1 million acres of land in Sonoma County alone and the wildfires destroyed about 10% mostly in non-urban areas except to the south in Santa Rosa. Vineyards even became fire breaks because they don't have much fuel on the ground like the grassy areas outside of them. Headlines of smoke taint were also touted as destroying the 2017 vintage completely. Not true. We picked our last grapes on September 29-10 days before the fires. There was no disruption during fermentation and winemaker Montse Reece said there are no problems of smoke taint at Pedroncelli-and it is true for our neighbors as well. Harvest was almost over by the time the fires erupted and the majority of the grapes were already in at the winery. The vintage has not been destroyed.
Here are some numbers to keep in mind: 90% of the winegrapes had been harvested by October 9 when the fires began. 90% of over 1 million acres were not burned in Sonoma County. Remember the '90s' when it comes to the first 2017 wines on the market. And we'll celebrate our 90th harvest when they are released!
Categories
Recent posts
Popular tags