Vino In My Dino
August 31, 2017 09:12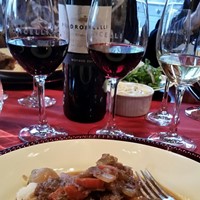 August began and ended with a tweet-up or taste-up as we have named them. Between 10-15 bloggers received wine samples and we all met online to share photos of the food they prepared to go with our wines, ask questions, share impressions and reviews of the wines and learn more about Pedroncelli.
The amazing thing is each of these bloggers has a following, in the tens of thousands in some cases. And we were all online from across the United States and sometimes there were comments from across the globe. Several of the questions were about harvest, Dry Creek Valley, veraison, tasting notes on particular wines, and the process of making wine.
Here are some excerpts or reviews from each of the taste ups:
@Talesofthecork: A couple of days ago, we paired @PedroncelliWinery Chardonnay w/ roasted shrimp orzo salad. Perfect!
@SLBriscoe: Not gonna lie, enjoyed the @Pedroncelli w/pizza crisp acidity and baking spices pair well w/cheesy things
@TheWiningHour: MC #Zinfandel is delish! Spicy, dark berry fruit. Paired with a porterhouse.
@smgwinespeak: "tasted this two weekends ago-LOVED IT! all wines possess consistent quality at price points you can't beat!"
@always5star: Love chatting about @Pedroncelli wine & sipping their fabulous Cabernet Sauvignon - Lovely w/cherry, plum & blackberry.
@winecheesefri: Haven't tried @Pedroncelli wines yet but was excited to see it is from #sonoma!
@Fiery01Red: https://rockinredblog.com/2017/08/07/food-wine-pairing-pedroncelli-summer-break/
Andrew Chalk: https://www.facebook.com/ModernLifestyles/posts/1262238050554628
Dan's Cellar Sips: http://crwinenuts.blogspot.com/2017/08/pedroncelli-celebrating-90-years-ped90th.html
@briscoebites: http://briscoebites.com/pedroncelli-chardonnay/
I enjoyed engaging with people from near to far flung places and learned we need to do more of this type of gathering. Telling our story to so many people is fun and the challenge is connecting them with a way to find our wines in their local stores. Our next gathering is on October 5. We tweet live from the Heritage Room with the wines and food I paired. Join us virtually or at the winery! #ped90th
Categories
Recent posts
Popular tags