Vino In My Dino
May 30, 2018 15:59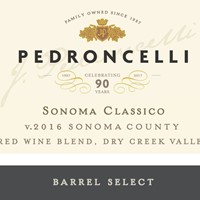 What is a classic? Definition: judged over a period of time to be of the highest quality and outstanding of its kind. What is Sonoma Classico? Read on for a glimpse into why we created this tasty blend.
Before my grandparents purchased the property which would become Pedroncelli Winery the original winery and vineyard was founded and run by the Canata family who established it in 1904. The wines they made reflected the style throughout Sonoma County in the years preceding Prohibition. These were field blends with an emphasis on Zinfandel and included other varietals like Petite Sirah, Carignane, Golden Chasselas, and Alicante Bouschet. The goal then was simple: to create a wine ready to drink soon after harvest. By growing and including grapes like Zinfandel the wine would be easier to drink, approachable sooner rather than later. This is how a classic is born.
These blends continued as my grandfather began to make his own wine after Repeal (during Prohibition he made his living by selling grapes to home winemakers). First barrels of wine bearing his name followed by his own eponymous label in the late 1940s. He used Claret and Burgundy to identify the blends. Later on when John and Jim, second generation, continued making blends these wines were named by appellation or proprietary name like Mountain Red, Premium Red and Sonoma Red.
We made our Sonoma Classico by combining the wisdom and honoring the lineage of red wine blends. It captures a combination of estate grown grapes each contributing fruit, depth and structure to the wine. These blends were the foundation of California wines and continue to be an integral part of our line of wines. The tradition is there, 90 years strong. Sonoma Classico: the standard by which all others are measured.
Categories
Recent posts
Popular tags