Vino In My Dino
February 28, 2018 14:15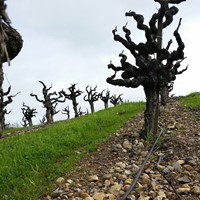 Drought. The word is bandied about these days as we look to the last significant month in our rain cycle. March is usually the final frontier when it comes to the rain season. If we haven't had enough (and we haven't) then this is the last stand to make up for the small amount we have received so far. In fact the warm weather (in the 70s) we had in February almost made our vines think it was spring.
We've had between 12 and 13 inches of rain this season. Average rainfall is around 30 inches. That's why the dreaded D-word 'drought' is now being used. While considered moderate we'll need a few more inches to even get close to normal.
From the California Department of Water Resources comes this when defining drought for our state, "California is no stranger to drought; it is a recurring feature of our climate. We recently experienced the 5-year event of 2012-2016, and other notable historical droughts included 2007-09, 1987-92, 1976-77, and off-and-on dry conditions spanning more than a decade in the 1920s and 1930s. Paleoclimate records going back more than 1,000 years show many more significant dry periods. The dry conditions of the 1920s-30s, however, were on a par with the largest 10-year droughts in the much longer paleoclimate record."
The great amount of rain we received in 2017, while a distant memory, is something that isn't repeated too often. The good news is it filled up reservoirs and even recharged groundwater storage in some places which is an important if unseen effect-without underground water the wells so many of us rely on for farming would affect our ability to deliver water when most needed.
It remains to be seen what March will bring. We all hope for more rain to give the vines and other agricultural crops the water they need.
Categories
Recent posts
Popular tags