Vino In My Dino
October 31, 2017 09:23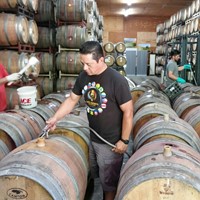 Even though we finished picking grapes on September 29 the cellar was still filled with fermenting the final tanks of 2017 through the third week of October. Now the last tank has been emptied, the crushpad and presses have been cleaned and retired for the season, and these wines are awaiting the next step whether it is to wait in the temperature controlled tank until bottling or to wait for a turn in barrels to age for a year or more. Barrel aging is the most important stage for red wines. You could call oak aging a multi-tasker as it plays a many layered roll in softening and developing the young wine. Our winemaker, Montse Reece, works with our house style in determining the use of oak. There are a few levels of choice from the type of oak (American, French, Hungarian) to the toastiness of said wood (light, medium, dark-barrel heads toasted or untoasted). Since the wine will be stored in there for a year-on average-it is important to choose wisely when it comes to our house style.
What is our style? Wines which are easily approachable, balanced between the fruit and the wood. American oak is the first choice for almost all of our red wines. French oak is used for our Pinot Noir and Cabernet Sauvignon and is desired for its' backbone of tannin and warm spice notes as compared to the softer wood notes and hints of dill in American oak. Medium toast is preferred across the board with toasted barrel heads combined to add the complexity of toasty oak notes. Our focus is on expressing the fruit of a particular varietal and choosing the wood to complement it. Lastly our style calls for smaller amounts of new oak which results in a fruit focused wine without finding a 2 x 4 in the bouquet.
Polo Cano, our cellarmaster and the one in the photo at top, will be working in the Barrel Room over the next few months with his crew as they ready the 2016 vintage for bottling in the spring and add the 2017 vintage to their year-long home. A toast (pun intended) to the great multi-tasker, the barrel.
Categories
Recent posts
Popular tags