Vino In My Dino
January 27, 2018 14:26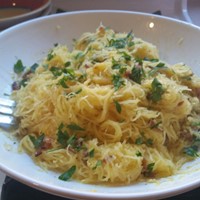 We've planned our second year of what we call 'Taste Ups' known in the twittersphere as Tweet Ups. In January we hosted the first of five and each one focuses on a three bottle line up of our wines. This time we featured our Signature Selection Chardonnay, friends.red and Mother Clone Zinfandel. I chose a recipe for this grouping from chef and author Michele Anna Jordan (@saladdresser), one of my favorite go-to wine and food pairers. Is there such a title? She publishes her recipes weekly in the Press Democrat and I have a file I keep with her creations as well as others I run across in the world wide web-it's like clipping coupons only better.
The choice I made was Spaghetti Squash Carbonara and made it at home first to see which wine it would go best with out of the three I had at home. I picked the Mother Clone Zinfandel at the time and while it paired well at the taste up many of the participants also liked the Signature Selection Chardonnay. One of the ingredients that would be hard for some to find was Vella's Mezzo Secco, a local artisan cheese, which is a dry Monterey Jack flavorful enough without being too overbearing for this carbonara and I included a wedge with their shipment of samples. Another reason I picked Spaghetti Squash is I have been following a low carb way of eating for some time and no longer eat things like pasta (I can hear you gasping). It doesn't mean that every recipe I pick will be low carb but I have found many ways to incorporate the tenets without sacrificing flavor or satiety.
We had 14 people online at one time across the U. S. which resulted in over 234,000 tweets about our wines during the one hour session which took place at 4pm PST. I was at the winery with Thea (@winebratsf) and Robert (@RobertLarsen) while Ed was somewhere deep in Florida participating as well but from a hotel room without the wines or food. We momentarily felt sorry for him but hey he was in warm Florida and we were in cold northern California. I made the dish for those of us at the winery as did all of the others from Texas to Iowa, Oregon to New Jersey. You'll find the whole discussion along with my notes at this link and peruse the comments, photos and banter. We have a great group and look forward to our next taste up in March.
Categories
Recent posts
Popular tags