Vino In My Dino
February 10, 2017 13:47
Last month we worked out our plans for our 90th anniversary. Deciding to focus on the whole year as a celebration, each event we host or participate in will focus on and celebrate our 9 decades of being a family owned and farmed winery in Dry Creek Valley. We developed the "Pillars of Pedroncelli" to emphasize what has made our business so successful. The first of is family.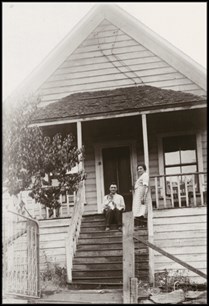 It all begins with my grandparents Giovanni and Julia Pedroncelli who purchased a vineyard, shuttered winery and a home—beginning a now four generation legacy smack dab in the middle of Prohibition. Something about this place called to them-perhaps it was the largely Italian population of the valley or memories of home. Either way it is one of the firsts of our family legacy-buying a winery during the driest period in U. S. history. And I am very happy they chose Dry Creek Valley when there were so many other places in this state—like Bakersfield…
Aunts Margaret and Marianne flank John, around the time they moved here.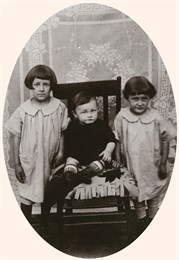 Pedroncelli was among the earliest on the Sonoma County wine scene and there are many other firsts for us: inviting customers to taste wine in the cellar and take away bottles blended by my grandfather in those early years. I call this the social media of the day-volume of sales depended on this homegrown effort of word of mouth, friends telling friends.
A boy and his dog (Jim, age 9)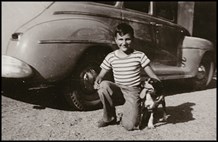 There is a family story about my dad Jim who went missing one day after the family worked in the vineyard-he was found later under a vine with his dog.
We crafted a varietal Zinfandel by 1949 and not too much later added Sonoma to the label. We made a Rosé out of Zinfandel in 1954 now with more than 60 consecutive vintages. We were the first to plant Cabernet Sauvignon in Dry Creek Valley in 1966. We were early adopters of small oak barrel aging and temperature controlled stainless steel tanks transitioning from redwood and concrete fermentors.
In the cellar Giovanni & John in the cellar.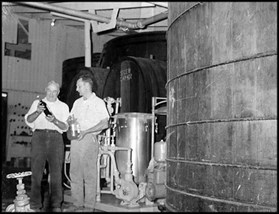 My dad Jim blazed the trail in establishing a network of distributors selling wine through the three tier system and by the 1980s he helped create an independent sales & marketing network. Today we work with some of those original wholesalers, many multi-generational as well.
Jim Pedroncelli, 1970 Jim in the early 1970s.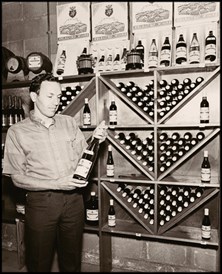 I think one of the best 'firsts' for my family is thriving beyond the first and second generations with careful planning, quiet innovation and steadfast quality. Here's to the next 90 with a splash of Zinfandel, our flagship, in my Dino!
Categories
Recent posts
Popular tags