Vino In My Dino
February 24, 2017 13:56
Open That Bottle Night is tomorrow night, the 25th of February. This is a fun way to take a look at the wines you have stored or saved over the years-and even if you don't have a cellar or closet to age wine pick something up you haven't tried before. It doesn't have to be expensive or an older vintage-just open that bottle!
Some advice: In the case you have an older vintage on your hands remember to check a few things out: fill level of bottle or any leaks through the cork. If you have a two-pronged wine opener this is best for older corks but careful use of a regular corkscrew should do the trick. Decant if you like although I think the aromas of an older vintage (15-20-30 years old) tends to dissipate quickly. Needless to say don't linger over a wine that is quite old-it is delicate in its old age.
Here are a few OBTN comments from friends over the last year-perhaps you have a bottle lingering in the cellar/basement/closet/top of the refrigerator (hope not) that you and your wine friends would enjoy!
Dave P, MN: My wife and I have been drinking your wines for many years (30+). For tonight's Valentine's Day dinner, I made beef tenderloin with mushrooms and a mustard sauce. I opened your 2008 Family Vineyard Petite Sirah. It was wonderful. Smooth tannins. Fruit practically jumped out of the glass. It was the perfect accompaniment to the food. The predominant flavors on my palate were blackberry and cherry and blueberry. To tell you the truth, I wasn't sure prior to opening it that it would be primo. But it was. Now I have to go buy more of it.
Herb S.,: I am finishing a 2012 Dry Creek Valley Cab. I opened it today around 2pm. Popped and poured right into the glass. It was great directly out the bottle. Definitely noticed it needed a little air, but very satisfying. As the night went on the wine just got better and better until the best sip was my last sip at midnight. (I actually left the house for a few hours, or that bottle would have been long gone!) Just wanted to let you know how much I appreciate the work you do to put out a quality product, consistently. My cellar will always be stocked with Pedroncelli!
Or this video about our 1972 Cabernet Sauvignon by Bobke TV
Either way I'll be enjoying a wine in my Dino-now which one should I open?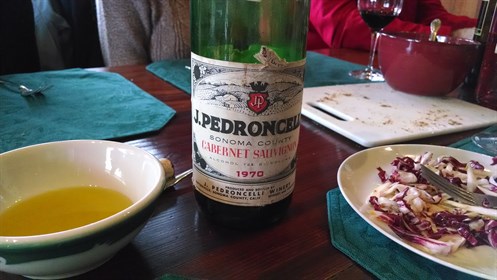 Categories
Recent posts
Popular tags