Vino In My Dino
May 25, 2017 12:01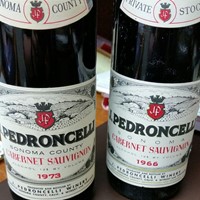 As we move through our 90th anniversary year we are taking some of our cellared wines from the library and giving them some consideration. Many are 20, 30 and 40 years old. Today we are celebrating National Wine Day (May 25). I thought I'd discuss my experiences of tasting some of our older wines, a few of them in great condition and others have gone over the wine colored rainbow bridge.
With this in mind I found, for the most part, our Cabernet Sauvignons have held their ground in the world of cellar aging. The 1966 I tasted last night was a bit tired in the aroma department and once tasted I think actually held onto some of its' youth with touches of tobacco, a bit of acidity and tannin, overall very soft. At this point, for many wine lovers and fans, this wine has joined the 'over the hill' gang but I am still fascinated by the longevity—51 years old!
A 1977 Cabernet Sauvignon fared a bit better-and coming from a drought period. The wine still captured the fruit and acidity with a bit more concentration from the lower yield influenced by drought that year.  With a bit of zestfulness it holds as one of the best from an uneven decade and did well in my opinion. Not for the faint of heart and certainly something you want to pour and serve almost immediately-the more aeration the faster the bouquet disappears and my advice is not to linger.
Our 1995 Cabernet Sauvignon is a good example of a well-aged wine at 22 years old. It had life left including fruit framed by still-present tannins and hints of warm toasty oak, although the tannins had softened up and acidity provided the tart palate. Predictions of a Cabernet worthy of aging, based on the growing season that year, proved right. Decanting the wine would not be required, drink up because older wines don't last into the next day.
Heading into the first decade of the new millennium the Cabernets of this period tend to be doing well with plenty of aging capability left. The 2003 Cabernet Sauvignon shows fruit over tannin, beautiful toasted oak and acidity frame the wine. Decanting at this stage in the aging game would be recommended.
Take a look around your stash and don't wait too long to enjoy the fruits of your cellar. You don't have to reach into your cellar (closet, garage, wine refrigerator) for an older wine. Enjoy a glass of your favorite today. Pair with whatever you are having, from a quick weeknight meal to after dinner reflection.  Post photos using #NationalWineDay on your favorite social media channel. A toast in my Dino with a splash of 2014 Cabernet Sauvignon!
Categories
Recent posts
Popular tags