Vino In My Dino
October 29, 2018 13:48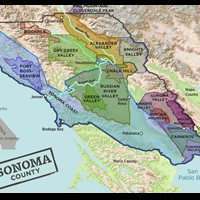 I often refer to our neighborhoods of grapes found right here in Dry Creek Valley-the smallest of the four major Sonoma County winegrape appellations-because there are diverse little micro-climates and steep hillsides producing some of the tastiest fruit around. And some of the grapes come from longtime neighbors going back 60 or more years!
You can see by the Sonoma County appellation map with all of the 19 American Viticultural Areas (AVA) outlined that we are a county of neighboring appellations. And within each AVA are hills, benches and valley floors. In each of these there are thousands of acres of varieties and vineyards making up a total of 60,000 acres in Sonoma County (and there are 1 million acres in Sonoma County).
With a little inspiration from the Winegrowers of Dry Creek Valley here is how we see the appellation in neighborhoods: As defined by soil and area the Dry Creek Valley is split into these areas: Western Benchlands, Eastern Hills (that's us!) and Valley Floor. The appellation itself, 16 miles long and about 2 miles wide, is furthermore split almost in two by Lambert Bridge Road where south of the bridge is cooler than the vineyards to the north by several degrees at times. For instance our Chardonnay comes from south of the bridge on the valley floor. Our Zinfandel and Cabernet Sauvignon from north by almost 5 miles where it is on the eastern hillsides.
When you then drill down to estate vineyards and our growers you get 8 different locations in the valley. Each one is planted to one or more varietals. I'll use our Wisdom vineyard as an example: it is located on West Dry Creek Road (Western Benchlands) and has been planted to Cabernet Sauvignon for more than 50 years. This neighborhood is known for producing excellent Cabernet as well as Zinfandel (the Courage/Faloni vineyard is just around the corner).
I'll introduce you to our other 'neighborhoods' in the coming weeks.
Categories
Recent posts
Popular tags