Vino In My Dino
September 28, 2017 07:16
The theme of harvest this month includes the end of harvesting grapes but the cellar crew doesn't consider harvest over until the last tank of wine has been fermented and pressed and sent to rest and await barreling in the winter. The process of fermentation, which transforms the sugar in the grapes to alcohol through a little chemical magic utilizing yeast, is the beginning of wine. The vineyards have done their work growing the grapes but once they are in the tank it is the winemaking crew that begins the transformation from a sticky mass of juice and berries to new wine.
We use temperature controlled stainless steel tanks to hold the must-which is a combination of the juice, skins and seeds transferred from the crush pad. If the grape is a white varietal like Sauvignon Blanc the must goes directly to press where the skins and seeds aren't needed and then is transferred to tank for fermentation. Red wine grapes like Zinfandel go directly past the press and into the tanks. In the case of both white and red grapes the must rests for 24-48 hours to chill before yeast is introduced to begin the fermentation. This gives it time to cool down and the importance of this is to slow the process down to give time to the actual fermentation. Akin to a race horse, the juice is raring to get out of the gate and finish-which doesn't allow for development of flavors. The winemaking team chooses the right yeast for the right grape in order to get the best out of the grape.
Another way to get the flavor developed is to pump over the cap. The skins and seeds naturally rise to the top of the tank so the juice is pumped up and over the cap-kind of like the immersion of a tea bag where you get more color and flavor when immersed. This occurs every day until fermented dry-every last ounce of sugar is converted to alcohol.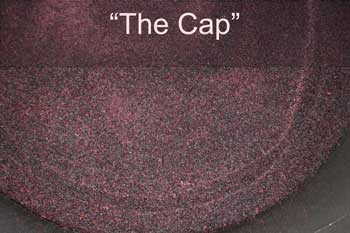 Some wines go through the secondary fermentation called malo-lactic fermentation. Quick definition: malic acid is similar to tart green apple, lactic acid is similar to butter. Sauvignon Blanc and our Rose do not go through this process but part of our barrel fermented Chardonnay does and all red wines do. The reason? This secondary process softens the wine and instead of rustic rough edges you'll have one with smoother mouthfeel (or palate appeal).
Now that we are finished with the fermentation the next stop is the press (for red wines) to remove the skins and seeds. The resulting mass is called pomace. It is taken up to the vineyard to 'season' for a year and then we add it back to the soil. Now we're done with harvest-in real time it will be mid-October before the final pressing. Until then I'll toast this harvest with a splash of Sauvignon Blanc!
Categories
Recent posts
Popular tags