Vino In My Dino
June 22, 2017 10:28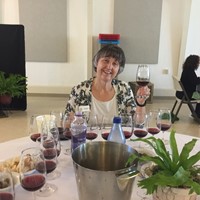 Here in wine country if you aren't careful you can get what we call a 'house palate' where the only wine you try is from one winery-usually the wines you represent. It is akin to staying with one food for the rest of your life like chicken or bread-a pretty boring existence.
In the last seven days my palate was challenged a few of times. I was fortunate enough to taste through 27 Dry Creek Valley Zinfandels at the Zinfandel Throwdown held at Dry Creek Vineyard. I was a judge at the International Women's Wine Competition where I tasted through 113 wines on Tuesday for several panels of wine ranging from Flavored Sparkling Wines to Malbec, as well as Sauvignon Blanc, Pinot Noir, Zinfandel and 30 Cabernet Sauvignons under $20. On Wednesday the Sweepstakes round included 35 wines for consideration of the top prize.
My palate was challenged several times throughout the process. At the Zin, tasting which was done blind (meaning the bottles were covered by black bags), I found out later that I had picked our Bushnell Vineyard Zin out of 27 other choices. I preferred our house style to all the others! At the wine competition I conferred with the other two judges on my panel who were winemakers and much more experienced with different wine styles and flaws. I did identify two corked wines over the course of the day and asked for re-pours. My nose is very sensitive to corked wines while other flaws weren't quite so apparent hence the discussion with the other two judges. While I didn't have to like them there were many wines I would never have tried if they had been revealed to me ahead of time including a blue sparkling wine which was completely dry. I liked it and appreciated the many other styles of wine represented in the 148 glasses I sniffed and sipped.
While you have been tasting wine your own 'house palate' developed and you have discovered wines you love or dislike. In large part the education comes from the practice of tasting, kind of like Olympic trials but more fun. There is a world of flavors and choices of styles whether you are new to wine in recent years or have 'done this' since you, ahem, turned legal age. I often advocate for trying anything put in front of you-even if you haven't heard of the varietal before. The good thing is you can always dump it out. Wine tastings, tasting rooms, wine bars, in-store tastings are a few of the ways you can go about your wine education. Ask questions, be curious, seek out the unknown-it may become your favorite grape and turn your palate from one note to a symphony of choices! A toast from my Dino to your glass with a splash of Sauvignon Blanc, my favorite summer grape.
Categories
Recent posts
Popular tags