Vino In My Dino
December 21, 2018 10:03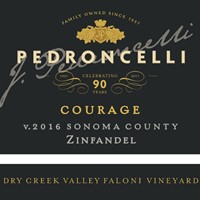 Lists, they are a 'thing' at years' end and the New Year. Some people check it twice, some make resolutions. I've put together a few of my favorite blog posts, views and news from 2018.
10- Harvest 2018 was a good, juicy and large one! As the red wines from this vintage are tucked away in the barrel room and the white wines begin their march to the bottling line we have high hopes for such a great vintage coming to you soon.
9-90 Points and more! As I was reviewing our reviews, ha ha, I found that three times in the last year three of our wines were featured in the three different issues of the Wine Spectator-unprecedented! And more points were awarded to our Zinfandels than ever before. We were thrilled and gratified with these and for our other wines doing so well. A huge note of thanks to our hardworking cellar and vineyard crews!
8-Milestones: reaching for 100 by taking each day at a time. We head into 2019 with our 92nd anniversary ahead. Four generations have farmed, made wine, and thrived on this little corner of Dry Creek Valley and each day is a step toward reaching our 100th anniversary-one day, one season, one year at a time.
7-"Sell more wine." When Ed first came to work he tacked up a paper on the corkboard above his desk-13 years later it still resonates each time I visit his office.
6-Montse Reece crushes her 12th vintage at Pedroncelli. She began as assistant winemaker in 2007 working with John Pedroncelli. She became winemaker, only the third in our 90 year history, and continues to strive for our house style while imprinting her own sensibility on each of our wines.
5 is the number of Taste Ups we did with our wine and travel bloggers across the U.S. Some great mentions and articles were written about our wines and way of life.
4-Word from the road-postcards to my grandsons. Ed recently visited Joe and family and his wife Ashley brought out the basket with all the postcards I had sent Jordan and Weston over the last couple of years. It is my way of staying in touch when I am out of the area. They are always on my mind!
3-Scents & Memories: wine intertwined with me from childhood. I admit this blog post was a fun one because each morning, Monday through Friday, I get out of my car and inhale the most wonderful scents each season brings.
2-Gratitude Vine: Our guests have had a wonderful time adding to the old vine trunk displayed in our tasting room. We'll take down the 2018 tags and our visitors will add to the 2019 version.
1-Zin is the word. I am declaring 2019 the year of the Zin. Our style reflects the best of this grape in a trio of vineyards: Mother Clone, Bushnell and Courage/Faloni Vineyard. We have broken our own records with the quality and excitement around this true California grape. See #9 for more proof!
From my family to yours we wish you all the best in 2019-I know I'm excited to see what's around the corner!
Categories
Recent posts
Popular tags