Vino In My Dino
June 28, 2017 16:40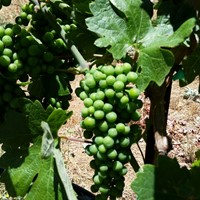 What happens in the vineyard when summer hasn't even begun and we have one of the hottest days on record? On Sunday June 18th the temperature hit 110 degrees in our little corner of Dry Creek Valley. The days that followed were not much better and the mercury wavered between the mid 90s to over 100 degrees again on Thursday. This pre-summer heat wave definitely had my attention.
I was curious-what does happen to the vines as it gets unseasonably hot? It isn't the first time the month of June has seen this heat and it does some good to know the following week we had our fog back in the evenings with pleasant temps in the low 80s. I asked our Vineyard Manager Lance Blakeley to explain a few things to me. How does he prepare? What happens to the fruit? Was it a good time to have a heat wave?
First of all he was ready for the heat-farmers are always weather watchers and he and the crew prepared the vineyard for what was coming by drip irrigating the ranches, which totals 105 acres. This in and of itself helped the vines to survive the brutal heat which hit on the 18th. The fruit was protected by the canopy of canes and leaves. There was little to no scorching of the green berries. If there was a good time to have a heat wave this was it-if it had occurred during bloom time we would have a more drastic story to tell.
I learned something too. The leaves actually move to cover either the stem or the fruit, whichever is in danger of scorching. One way to test if the vine is keeping cool is to feel the leaves-if they are cool then they are safe. If they are warm to the touch then they need some help as they'll begin to wilt and become overwhelmed by the heat. Kind of like people-we wilt when it becomes too hot and just want a cool drink of water. The good news is, with temperatures rising in the first week of July, the vineyards are acclimated to the heat by this first wave. Here's to the vines and the hard working crew who takes care of them with a splash of Rosé of Zinfandel in my Dino!
Categories
Recent posts
Popular tags