Vino In My Dino
September 24, 2018 15:57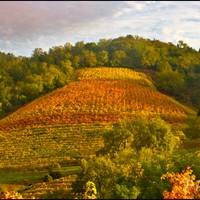 I saw an article this week that talked about Vintage 2018 being a late harvest this year predicting some wineries will be picking until November (!). The article said this was due to the cool weather we had in the last two weeks of August just as harvest was beginning and continued over the first three weeks of September. But for us in the upper part of Dry Creek Valley where we have been picking since August 30 it is warmer than say the Russian River Valley or the Sonoma Coast.
A blanket statement or headline like this makes many people think we are all the same, that the vast Sonoma County vineyard acreage is in lockstep with one quote and one type of climate. So it follows that an article can't put all appellations into one basket. We have warmer days than some of our cooler cousins to the south and west of us. In fact it is the distinction of Dry Creek Valley itself, when it comes to climate, where we have those warm-to-hot days and cool, marine-fog infused evenings that make this area so special. We are reaping the benefits when it comes to quality in the grapes because those cool nights bring development of sugars, tannin and acidity. The last word, acidity, is what signals Montse Reece, our winemaker, to set things in motion to pick a particular block or vineyard. She relies on this above all others to bring in The grapes are ripe but not overripe which will give the varietal character without going full tilt into fruit bomb territory. The tannins are rounded and smooth leading to a solid structure.
With all that said we are winding down harvest here and will finish at the end of the first week of October. We have had a warm final week of September (96 degrees on Wednesday) and it pushed many of our varietals to the perfect range. Cheers to our 91st harvest and looking forward to tasting the first wines of the vintage early next year!
Categories
Recent posts
Popular tags