Vino In My Dino
December 21, 2018 09:58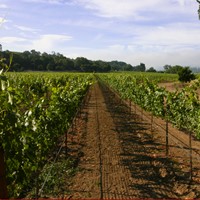 I wrote about neighborhoods of Dry Creek Valley in November's post (referenced here) beginning with our Wisdom vineyard. Now I'll move on to our East Side Vineyard on the east side of Dry Creek and totaling about 45 acres of planted vines. Purchased by John and Jim in 1972 it was home to prune trees at the time.
If you see Jim ask him to tell you about prune trees and you'll likely hear back how happy he was to pull them up. You see, Dry Creek Valley farmers planted acres of these fruit trees. They were still a large part of what was planted here when I was growing up. Picking them wasn't too fun but they always made money for those who were industrious. Before prunes there were grapevines so it comes as no surprise when the wine renaissance rolled around in the 1970s that the orchards were replaced with vineyards once again.
The East Side Vineyard is home to our Bordeaux varietals: Cabernet Sauvignon, Sauvignon Blanc, Cabernet Franc, Merlot and Petite Verdot. It is situated on the valley floor where the Sauvignon Blanc is planted and as you look east the land gently rises up by two or three percent and heads into the hills above. This slight bench is where the red wine varietals grow. The type of soil is represented by the loam-rich valley floor where Dry Creek once flowed and deposited the nutrient-packed soil. As you make your way to the rise it becomes gravelly with river rocks strewn here and there proving once again the creek at one time coursed over this area.
Neighborhoods, like the one you live in, are just that-made up of a certain set of homes, apartments, roads, or streets lined with familiar stores or neighbors. For us it means site specific examples of climate, soil and the right grape planted in the optimal spot. I'll continue the series next time focusing on our Home Ranch.
Categories
Recent posts
Popular tags