Vino In My Dino
April 21, 2019 12:21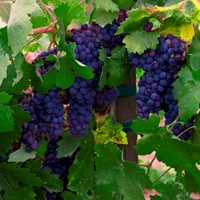 Crop reports help the agricultural community know where they stand on how productive or unproductive their commodity is whether it is wine grapes, wheat or corn. It is a marker for the year-or in our case the vintage-and helps the farmers see patterns where patterns exist or how the weather may have affected their crops in the growing season. We just received the Sonoma County Grape Crush Report for the 2018 vintage.
The Sonoma County Winegrape Commission, our grower trade group, sent out the information about the 2018 Crush Report in April. The information that follows is from the newsletter. I will add my two cents following the quoted material.
"In 2018, Crush District 3, Sonoma and Marin Counties, experienced a record total tonnage crushed of 275,977 tons (an increase of 34% compared to the 2017 harvest). The 2018 crushed tonnage saw a price increase of 0.4%, resulting in gross grape revenues of $777,675,307 which is up 34.5% versus 2017. The average price per ton was $2817.9/T.
An important note: Although the 2018 vintage represented the largest vintage on record, it is only 2% larger than the 2013 vintage, which held the previous record for tonnage. In value, the 2018 vintage represents a 27% increase in gross grape revenues as compared to the 2013 vintage. This is driven by winegrape price increases over the past 6 years."
To put it in perspective we crushed 860 tons (we make about 55,000 cases of wine) which, for us, was 20% higher than the 2017 harvest. Price per ton, while having an increase over the last 6 years as noted, stayed relatively the same between the last two vintages. What does this mean for the buyer of our wine? We are able to keep our price point the same and the growers are reaping the benefits of the rising price per ton.
How about crop size? The 2018 vintage was, from what I heard from winemaker Montse Reece and vineyard manager Lance Blakeley, a juicy one (with more ratio of juice than in previous vintages) and a very good quality harvest. Lots of happy growers when we have this type of harvest-ripeness, lots of juice which equals more per ton and a smooth growing and harvest season.
For us and our grapegrowing and winemaking friends in Sonoma County it was a very good vintage. We have quite a bit to celebrate and the 2018 white and rosé wines which we have released are shining examples of the quality. The red wines will follow suit in a year or so and I'll look forward to sharing them with you.
For the grape geeks out there if you want to take a more in-depth look here is the whole enchilada including grape crush reports going back to 1976 from the USDA's Agricultural Statistics page.
Categories
Recent posts
Popular tags