Vino In My Dino
August 2, 2017 15:40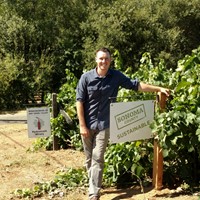 Around the winery we like to say we have been sustainable for 90 years and counting. Or even, as Ed says, 'it's in our DNA'. They say timing is everything and it couldn't have worked out better for us. The certification came through the week we were celebrating our 90th anniversary (July 22). The signs went up on our three estate vineyards just as guests began to arrive from all over the country.
I'll let the California Sustainable Winegrowing Alliance (CSWA) explain: The vision of the Sustainable Winegrowing Program is the long-term sustainability of the California wine community. To place the concept of sustainability into the context of winegrowing, the program defines sustainable winegrowing as growing and winemaking practices that are sensitive to the environment (Environmentally Sound), responsive to the needs and interests of society-at-large (Socially Equitable), and are economically feasible to implement and maintain (Economically Feasible). The combination of these three principles is often referred to as the three "E's" of sustainability. 
These three overarching principles provide a general direction to pursue sustainability. However, these important principles need to be translated into the everyday operations of winegrowing and winemaking. To bridge this gap between general principles and daily decision-making, the Code of Sustainable Winegrowing Practices workbook's 15 self-assessment chapters translate the sustainability principles into specific winegrowing and winemaking practices.
In addition to meeting the prerequisite thresholds and other program requirements, all CERTIFIED SUSTAINABLE participants must demonstrate improvement in their sustainability practices in order to renew their annual certification. CERTIFIED SUSTAINABLE encourages companies to use their own baselines to determine what areas need to be improved to make the most meaningful difference for their organization, and continually improve year after year."
Mitch Blakeley, fourth generation Pedroncelli, worked through the many-140 in all-questions from the CSWA's binder which took about a month to complete. He then met with a 3rd party certification expert and they went over the self-assessments. Some of the questions were about shoot density, soil analysis, soil amendments, water usage, tractor use, the overall health of our vines. The goal for the CSWA is to collect data on how we manage our vineyards with an eye to improving everything we do from drip irrigation to making less passes in the vineyard with our tractors. Increasing efficiency is key to sustainable vineyard practices.
He learned a few things from the process including we were more sustainable than he thought and basically we were certified for doing the right thing all these years. Basically the "proof was now in the pudding" as he put it. He will be instituting more records of the process, placing meters on our wells, monitoring fuel usage more closely among other things. There is a machine that will take a grape leaf and squeeze it to let vineyard managers know how much water is in the leaf in order to know when to turn on drip irrigation-this could save us thousands of gallons of water in the long run and make sure the vineyard is properly irrigated.
Here's to the Next 90 knowing we are in good hands. A toast with some Zinfandel in my Dino to Mitch, and to the generations who came before him with good stewardship of the land in mind.
Categories
Recent posts
Popular tags