Vino In My Dino
March 3, 2017 07:25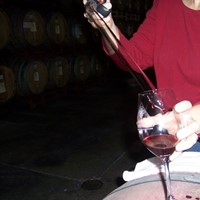 This weekend we are celebrating 40 years of barrel tasting at Pedroncelli—we were one of the founding wineries and have participated in this educational event since the first year-1977. While I was too young at the time to participate I worked my first barrel event in 1986. It was free back then, people even brought their own wine glass with them because the wineries weren't equipped to wash enough glasses to supply the event. Ahhh those were the days-it is more upscale now with glass included in the ticket price.
The next two weekends we'll welcome event attendees into our cellar (yours truly will be the greeter) and thief samples of our 2015 Mother Clone Zinfandel side by side with our 2015 Bushnell Vineyard Zin. Our winemaker Montse will be here tomorrow to answer your burning barrel questions; cellar master Polo will be here next Saturday to do the same. Don't be shy-barrels are a big part of a wine's story.
Here are a few stats to whet your whistle:
Why taste from the barrel? This gives you an idea of the aging process-compare an unfinished wine with a finished wine for the best comparison like our 2015 Mother Clone vs the current 2014. You'll find subtle and extreme differences between the two.
What happens inside the barrel? During the aging process, as the water and alcohol dissipate and thereby concentrating the wine, the young wine softens little by little. It will take on aspects of the oak as well as loosen up its' grip. If you are trying a wine from the recent harvest be prepared-the tannins are pretty harsh but the silver lining is you get a glimpse of things to come—the fruit components, the acidity, the body—and some of the characteristics will dominate the others.
How many barrels do we have and what kind of oak are they? There are 2000 barrels in our Barrel Room. Most are American oak, some French and a smattering of Hungarian. Each barrel holds about 25 cases of wine-50,000 cases of vino at any given time.
It's cold in here-what is the cellar temperature? This is important-our barrel room is kept at a constant 55 or so degrees. It is also humidified because this helps to slow down the oxidation within each barrel-which helps to save wine.
A toast to barrels-get it? toast ha ha-with a splash of Zinfandel in my Dino!
Categories
Recent posts
Popular tags