Vino In My Dino
July 26, 2018 09:29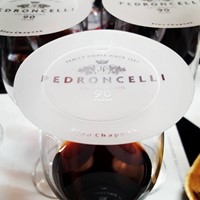 July is a special month for us. July 22 is the date in 1927 when my grandfather signed the paperwork to buy the shuttered winery, 25 acres of vineyard and a home. We celebrated our 90th just over a year ago with our trade and consumer friends in two events. It was quite a year for us.
What have we been doing since? Sitting on our laurels? Nope. Ed, Mitch and I traveled more than ever to keep the Pedroncelli message in front of our wholesalers and accounts. We finished certification of the winery as part of our dedication to sustainability. Ed and I continued our taste up series which will number 5 virtual gatherings by the end of this year. The word of mouth is expanding as we see the results of these sessions numbering in the 100,000s of impressions. Word of mouth indeed! It's how we began in my grandparent's time and how we continue today to make headway in a wine world of many choices.
You could also call it the Year of the Woman here at Pedroncelli. Our focus is telling the story of the women of Pedroncelli from my grandmother Julia in the first generation; my aunts Margaret and Marianne following in the second generation as well as my mother Phyllis and aunt Christine who blazed their own trails in the family business. These five women paved the way for the third generation and majority ownership (70%) which includes my sisters Cathy, Lisa and Joanna along with cousins Maureen and Connie, their daughters Alea and Roseanne, Richard's daughter Lauren, cousin Denise who is our graphics designer (and fourth gen family member). Montse Reece, who has been our winemaker since 2015, worked with winemaster John Pedroncelli until he passed. She has taken our wines to the next level and made her own place here in the Pedroncelli story.
Here's to another year of wine, family, friends and more.
Categories
Recent posts
Popular tags