Vino In My Dino
May 30, 2017 14:15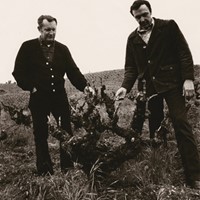 July 22, 1927 is the date Giovanni Pedroncelli signed on the dotted line and finished the sale of the property that is now the winery and Home Ranch vineyards. I am periodically including reflections on our 90 years in this place. Today I am writing about John and Jim, the next generation, as they stepped into their roles as family owners.
This period was the heyday of this generation and a resurgence of wine appreciation. They learned the trade while growing up and then found their positions within the business.  The brothers were poised for success. In 1960 they had purchased additional land already planted to Zinfandel. By 1963 they officially purchased the operation from their parents taking the next step from the first to second generation. They continued buying more land as the winery expanded production. By the mid-1960s they focused on oak barrels, stainless steel tanks and a new bottling line, among other necessary equipment for a growing winery.
At the time they were bottling in tenths, fifths, half gallons and gallons-the shift away from the large format bottles would come as the 1970s gave way to what I refer to as the wine renaissance. Consumers began to seek what they considered upscale wines in cork finished bottles, finding small family wineries, looking for varietals rather than those old-fashioned blends.
There was quite a bit of experimentation going on in the vineyard as my uncle and dad learned about what the consumers were drinking and balanced this with what grew best in the northern part of Dry Creek Valley. Zinfandel was still a large part of what we farmed and we were among the first to plant Cabernet Sauvignon (1966). We grew Pinot Noir, Napa Gamay, Chardonnay, Sauvignon Vert, Gewurztraminer and Riesling.  As times and tastes changed these were replaced by Sauvignon Blanc, more Cabernet Sauvignon, Cabernet Franc and Merlot by the 1990s. For the moment though, those early wine fans liked Chenin Blanc, Zinfandel Rosé, Riesling, French Colombard and Gamay Beaujolais. I was looking through the books at numbers during this time-in 1973 we produced 10,000 cases each of Chenin Blanc and Zinfandel Rosé!
While John oversaw the vineyard expansion and planting along with winemaking duties, Jim worked on sales and marketing for the ever-expanding line of wines and the new demand for fine wines. He worked first by taking orders and delivering the wine to northern California stores and restaurants. One of my fondest memories was going with my dad Jim on a delivery to San Francisco when I was around 6 years old. I remember we stopped at the Doggie Diner for lunch-this country girl couldn't get over the restaurant shaped like a hot 'dog'. He went from these early sales to using a broker and beginning to distribute statewide. He developed a network of distributors across the nation with some of them driving to the winery to strike up business. By the 1980s he was exporting wine to Canada and Japan as well as smaller global markets. Jim would also spearhead a broker network to secure a wider network for sales. The story continues as the third generation joins the ranks in upcoming posts.
 A toast to this great generation for keeping the business growing into now four generations!
Categories
Recent posts
Popular tags