Vino In My Dino
December 21, 2018 09:51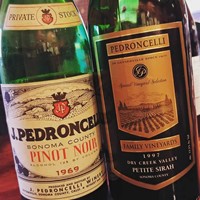 50 years is a long time to store wine-and we have a few bottles tucked away in our cellar from our earliest vintage dated wines which began in 1965. Even 15 years is considered a long time since most people who buy wine consume it within a few weeks of purchase. We have the convenience, longevity and a warehouse where we can take a save a few cases from each vintage and store them away for education and enjoyment years later.
Wine blogger Gabe Sasso visited the Dry Creek Valley in December. His focus this trip was on Petite Sirah. He wanted to know more about Pedroncelli's long relationship with this singular grape. We pulled together some information and Ed put together a vertical of the wines ranging from the first year made (1997) to a barrel sample of the 2017. Not every year but a nice range with an average of 15 years old. We used Petite Sirah previous to 1997 as a blending grape with Zinfandel and other wines.
During our pre-meeting chat I mentioned if we really wanted to throw in a ringer we should include one of our pre-1975 Pinot Noirs. Wine Geek Fact: the ruling came down from the government that the varietal shown on the label should be 75% of what is in the bottle. Before this the varietal on the label could be made up of other grapes and in larger percentages. In the instance of the 1969 Pinot Noir we poured it was about 50-50 Pinot Noir and Petite Sirah.
We had been growing Pinot Noir on the home ranch but it wasn't the right spot. Just as we were pulling up Pinot Noir and replanting with Zinfandel a fellow named Frank Johnson was pulling out orchards and planting Chardonnay and Pinot Noir in the very south area of what is now defined as Dry Creek Valley (DCV was named an American Viticultural Area in 1983) but from his vineyard you are a rock's throw to the Russian River Valley. We began buying fruit from him in the early 1980s. Today we still bring in Chardonnay and Pinot Noir from this vineyard.
Petite Sirah has been woven into our story since the early days. Most vineyards were field blends and along with the varietals of the day like Zinfandel they also included Carignane, Alicante Bouschet and even Golden Chasselas and Riesling. All of these were picked and fermented together. It wasn't until later on, well after Prohibition, that the varietal itself was on the label. This hearty grape is known for giving what I call backbone to the wine-and depth of color too.
A few years ago wine writer Dan Berger advocated that this grape would make wines which age longer than Cabernet Sauvignon! I agree it is one for the cellar. So we found ourselves tasting 50 to 15 year old Petite Sirah with life still in them-fruit, acid, structure and the tannins just beginning to soften in the youngsters. A wonderful opportunity to revisit these old and not-so-old vintages. Cheers with a splash of Petite Sirah in my Dino!
Categories
Recent posts
Popular tags