Vino In My Dino
March 29, 2018 10:10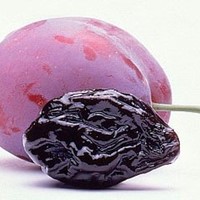 Prunes. Or Italian Plums. Those wrinkly sweet fruits I grew up with in Dry Creek Valley. Now some history of their importance here.
We hosted our second Taste Up of the year in late March. A Taste Up for us is a Tweet Up with wine bloggers around the U.S. all talking about a specific set of wines along with a recipe I chose to pair with them. We add in some information about our wines and the recipe and the bloggers do the same, tasting the wines, fixing the dish, asking questions. It is a lively one hour conversation with many different voices all focused on Pedroncelli wines and the dish at hand.
The recipe was from the New York Times with Florence Fabricant's Chicken with Chiles & Prunes. We even sent along some prunes in the wine pack. Now the reason prune is the word is because there used to be acres of prune orchards right here in Dry Creek Valley. Prunes became the vineyard replacement once Prohibition pulled the rug out from under grape growing. Up until the 1980s you could still see these orchards not only here but in Alexander Valley as well. Then wine made a comeback and those trees made way for vines once again.
If you grew up here you probably know what's coming. If you didn't let me share the story of the why prunes are such a big part of our history. Back in the days Jim and John were buying land to expand our vineyards they first bought 5 acres of prune orchard on West Dry Creek Road in 1965-which is now home to our Wisdom Cabernet Sauvignon. In the early 1970s they bought two more pieces on Dry Creek Road and this is where the rest of our Bordeaux varietals are planted (sauvignon blanc and cabernet sauvignon).
As kids we picked prunes as they typically ripened before school started. Hated very moment but the money made it worth it. Imagine a warm-turning-to-hot August day. Prunes are knocked off of the trees and land in the dirt where you kneel to pick them. Usually with the bees buzzing around because they were so ripe (bees sting you know). These were then brought to a place where they were dried. There was a huge dehydrator called Sunsweet in Healdsburg. This town was once known as the 'buckle on the prune belt'. While I was in grade school we used to make posters for the Prune Blossom Festival (using cotton balls as blossoms because the aforementioned valleys were carpeted in tree after tree of white blossoms). This event took place during the 1960s and attracted thousands of people (in a 1969 Healdsburg Tribune story they estimated 5000 people came to visit-tourism before its time!). Even a popular show, The Dating Game, had the winning couple pay a visit to the area during the festival. Local farmers baked recipes with this dried fruit like prune cake and prune whip which was prepared and served to all who visited at the local grange hall. A little non-wine history for our little corner of Dry Creek Valley--if you see Jim ask him about prunes-he has some stories to tell!
Categories
Recent posts
Popular tags