Vino In My Dino
December 3, 2019 15:25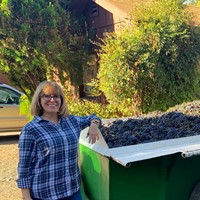 This note wouldn't be complete without a look at how Vintage 2019 turned out for us. As the harvest came to a close it was one of those textbook-perfect seasons from the abundant winter rains through the mild and even pace of the harvest. It will, however, be eclipsed by the Kincade Fire. I spoke to our winemaker Montse about her take on the harvest. She reminded me we had a good amount of rain and a good spring start in the vineyard. In fact the late rains in May encouraged a good sized production for our grapes. This was followed by a mild summer without any heat waves to challenge us. The result? Maturation of the grapes was nice, slow and evenhanded. There wasn't the usual rush to 'get the grapes to the crushpad' and September and October rolled along like clockwork with each varietal. The production from the vineyard was just slightly smaller than last year and you'll see some nice varietal expression coming out of the cellar.
Fast on the heels of the final day of harvest we did experience a challenge. The Kincade Fire broke out to the east of the winery on October 24 early in the morning. Whispers of evacuation and power outages began and soon Geyserville, the nearest town to the fire, was evacuated and the lights went out for what would be nearly 10 days. It was a bit eerie to watch the progress of the fire and a bit of relief as it made its' way south but this was toward Healdsburg, Windsor and northern Santa Rosa and these areas were also evacuated with me included as well as sister Lisa and many other staff members. The main fire fight was over the weekend and containment was a challenge with hurricane-force winds coming down over the mountains. Out of an abundance of caution the power was not turned back on until late on October 31 at the winery. We all made our way back to our homes and office, tasting room and vineyards by November 4.
We have a lot to be thankful for these days. Our 92nd harvest, the safety of family, staff, homes and the winery during the Kincade Fire as well as the first responders who valiantly fought the fire and saved lives and livelihood. As we sit around the table sharing stories and wine-be thankful we are safe, warm, fed and fortunate to live in this great country. Cheers.
Categories
Recent posts
Popular tags