Vino In My Dino
October 31, 2017 09:18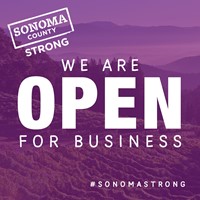 Fall: We call it the shoulder season here in Dry Creek Valley. The vineyards are mostly alive with the fall colors of red, orange, yellow and brown-kind of like the afghan my grandmother crocheted for me when I was a kid-she used my favorite colors! Mother Nature is weaving my favorite colors into the hillsides around me. The weather is pleasant with warm and shorter days giving way to cool nights. A recent sprinkling of rain produced my 2nd favorite smell in the world (besides fermenting wine). It is the oak leaves that have fallen and give off the most pungent and wonderfully acrid smell which signals autumn. More rain is expected over the first weekend of November-fall is here which means more dust will be settled and the pungent scent I love will be wafting on the breeze.
The vineyards and surrounding hillsides are turning color, the vines and oaks losing leaves with the increasing breezes. The vineyard crew is pre-pruning so you'll see some of the vines already cut back to a foot or so of cane-this prepares them for the actual pruning that will be done later in the winter/early spring where the foot long cane is pruned back to two buds-the 2018 crop. We have learned that pruning the vines in this way helps prevent disease from spreading by providing a buffer before it is officially trimmed to the next year's crop. Flocks of geese are flying overhead going south for the winter-or to the nearest lake. The starlings usually begin their amazing acrobatics about now--I know they can't resist the leftover grapes on the vines which in turn ferments and makes them a little crazy. To the north of us at Lake Sonoma the wildlife population is beginning to settle into preparations for winter. The serene water at this time of year is peaceful surrounded by oak and fir. A picnic there or on our deck at the winery will afford you grand views. No picnic? Grab lunch at the Dry Creek General Store or head into Healdsburg or Geyserville for a bite to eat.
Many people wonder what to do now the fires have been contained. Day trips are wonderful ways to explore the different counties. Many of our trade associations are putting together itineraries for you. They'll guide visitors like you to the large percentage of "Wine Country" that hasn't been damaged. Visit, Sip, Eat, Repeat. We'll have a splash of Zinfandel ready for you.
Categories
Recent posts
Popular tags