Award & Accolades
Rosé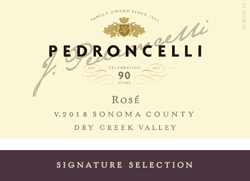 2020

North of the Gate Wine Competition

Best in Show & Best of Class & Gold Medal

Sonoma County Harvest Fair Wine Competition

Gold Medal

2019

WineReviewOnline

91 Points. "A perfect late summer/early fall wine, this rosé is both refreshing and substantial as it balances deliciously between fruit, a touch of spice, and refreshing acidity.  It's very food friendly as it has enough flavor and weight to shine as an aperitif wine or to be paired with chicken, pork and pasta, as well as softly spicy foods such as Asian noodle dishes." Marguerite Thomas Oct 6, 2020

Sonoma County Harvest Fair Wine Competition

Double Gold Medal

Wine of the Week: Jeff Siegel, Wine Curmudgeon

"The Pedroncelli rose is always top-notch every vintage, but the 2019 is one of the best I have tasted from anywhere this rose season, and certainly and among the best the winery has made in many years. It isn't especially heavy, and the spice – and even a little pepper – is pleasingly noticeable in the middle, after a burst of zinfandel-ish berry fruit. Plus, the wine finishes cleanly and doesn't feel syrupy or overdone in the mouth."

Please the Palate, Allison Levine

Everything is Coming Up Rosés! "Everyone knows about white Zinfandel, but the Pedroncelli Rosé of Zinfandel is nothing like a white Zinfandel. This wine is a deep bright pink color and has aromas of forest fruits, cherries, strawberries and raspberries. The wine has a nice, creamy weight on the mid-palate and delicate acidity. This is a wine crying out to be paired with anything on the grill."