Award & Accolades
Chardonnay, Signature Selection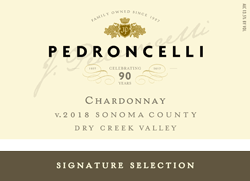 2018

Wine Review Online-Marguerite Thomas

90 pts. WineReviewOnLine.com, Marguerite Thomas, December 1, 2020. "This iconic Dry Creek Chardonnay is notably aromatic and has an appealing glossy texture. Eighty-five percent of the wine was fermented in stainless steel tanks with the rest aged in American oak barrels for eight months. Reasonably priced, relatively low in alcohol (13.5%) and boasting a convenient screw-cap closure, this is a good white wine choice for casual suppers. Try it with a cheese omelet, a tuna sandwich, or vegetarian carbonara." 

JamesSuckling.com

90 Points: "A youthful array of fresh pear and lemon aromas lead to a palate that has spiced-pear focus and a smooth, flavorful finish. Drink now."  printable

Harvest Challenge Wine Competition

91 Points & Gold Medal

Wine Spectator

88 Points: "Richly spiced, featuring well-knit, medium-grained flavors of pear, apricot and peach. Plush and creamy on the finish, with pastry notes. Drink now." 

The Fifty Best: Chardonnay

Gold Medal. Tasting notes: Aroma: Golden apple, crisp apple, white grape, star fruit, tropical fruit, lemon, grapefruit, lime zest, citrus, summer flowers, zingy, softly bright. 
Palate: Golden apple, Sweet Tarts, citron, lemon peel, honey suckle, vanilla, creamy, light butter, oak, tannins, consistent throughout, summer in a glass, delightful.
Finish: Orange, gardenia, floral, mineral, earthy, medium tannins, complex, balanced, Burgundian, approachable, pleasant, lovely.